For Cylinderal / Curved Objects Screen Printing Machine
Product ID: WE-100C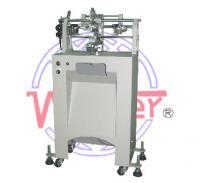 Specifications:
Max. printing area (mm) : 50*120 dia 30
Hourly capacity: 600~1200Pcs
Dimension (mm): 500*700*1100
Net weight: 70Kg
Features:
With electro-mechanism control requires no compressed air, no noise and vibration, easy operation and maintenance.
A three operation mode "MICRO-ADJUSTMENT", "SEMI-AUTO" and "AUTO" can be selected for a proper printing and operation.
Adjustable printing rod is available for large printing area and longer stroke.
Custom-made machine is available and welcome.
Suitable for round type plastic or metal pens, small round tubes and other, etc.